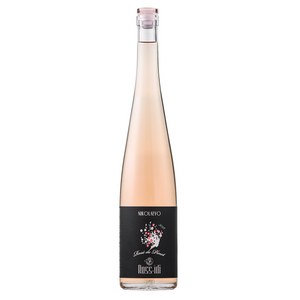 The Producer 
Rossidi
Grape Variety 
100% Pinot Noir 
Tasting Notes
A lively rosé with complexities of bright fruit such as apricot skin, white peach, yellow pear, strawberry, apple blossoms, and crushed rocks. The palate is soft with notes of grapefruit, pomegranate, sea spray, with a long and savory finish. An incredible wine on it's own but with great abilities to pair with a range of foods.   
Region
Thracian Valley
The Vineyard
The Nikolaevo Vineyard is situated on rolling hills in the Nikolaevo village in the east Thracian Valley. At the foot of the old mountain at 300 meters altitude, the grapes benefit from the cool air flow and good temperature amplitude between day and night during the ripening season. The soil is mainly clay, mixed with some limestone.
Vintage
2018
Winemaking
The grapes were de-stemmed and lightly crushed, then macerated for two hours in a closed membrane press and then gently pressed. Fermentation took place in temperature controlled 300L stainless steel and 400L old oak casks. The wine is aged on the lees in cask for 5 months gaining character and forming structure.

Alcohol Level
13%
Serving Temperature
50°F